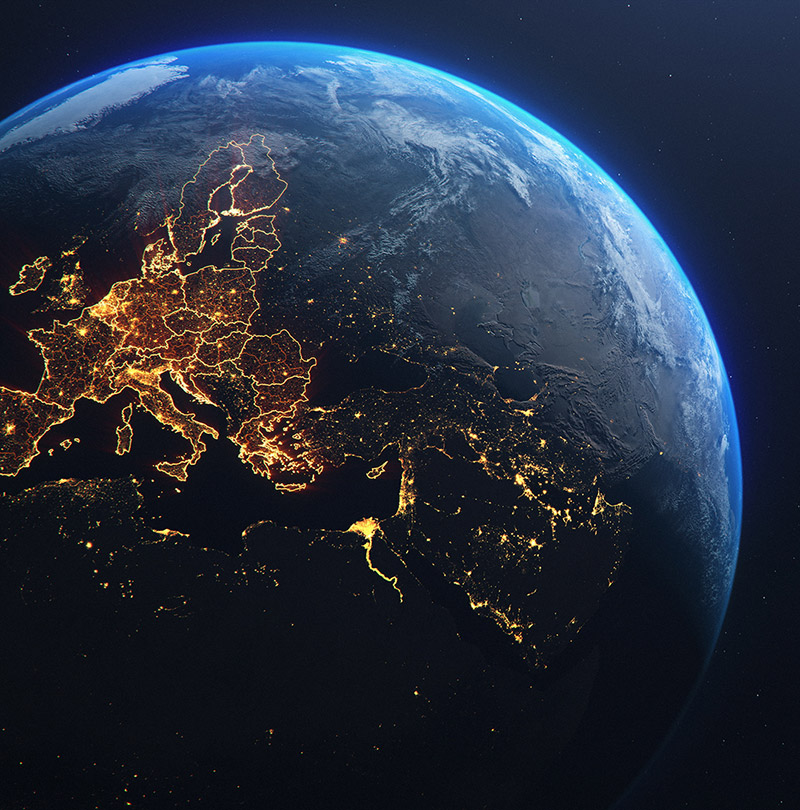 NEC or IEC? Electrical Standards listed by country.
When you are working on a project that is in a foreign country it can be difficult to know which electrical standards are applied to the building code – the National Electrical Code (NEC) or the International Electrical Code (IEC). Most of the world, outside the U.S. and its neighbors, have adopted a version of the International Electrical Code. For example, all of the European Union countries use a version of the IEC, however, they have small differences and sometimes create whole new translations for their local languages. Some countries have created their own version of the International Electric and others have adopted editions from other nations. Needless to say, with multiple codes and multiple versions of electrical codes, it can be confusing which countries use exactly what code.

Here we have collected electrical code information for many of the countries of the world. We have tried our best to present this as complete and accurate as possible. If you have updated information we would appreciate it if you could please contact us via the form below with your suggested corrections.
| Country / state / territory | Plug type | Standard Used | Language | Country Standard Origin | Single-phase voltage (volts) | Frequency (hertz) | Three-phase voltage (volts) | Frequency (hertz) | NOW-NITGW |
| --- | --- | --- | --- | --- | --- | --- | --- | --- | --- |
| Abu Dhabi | G | | Arabic / English | | 230 V | 50 Hz | 400 V50 Hz | 50 Hz | 3, 4 |
| Afghanistan (220 V | 50 Hz) | C / F | | Pashto / Dari | | 220 V | 50 Hz | 380 V | 50 Hz | 4 |
| Albania (230 V | 50 Hz) | C / F | CLC/TC 23H Code: 4 (Active) | Albanian | | 230 V | 50 Hz | 400 V | 50 Hz | 4 |
| Algeria (220 V | 50 Hz) | C / F | NFC 15-100 (2002) | French / English | France | 230 V | 50 Hz | 400 V | 50 Hz | 4 |
| American Somoa | A / B / F / I | | Samoan / English | | 120 V | 60 Hz | 208 V | 60 Hz | 3, 4 |
| Andorra (230 V | 50 Hz) | C /F | REBT 2002 (2004 revision) | Catalan / French / Spanish | Spain | 230 V | 50 Hz | 400 V | 50 Hz | 3, 4 |
| Angola (220 V | 50 Hz) | C | | Portuguese, Umbundu, Kikongo | | 220 V | 50 Hz | 380 V | 50 Hz | 4 |
| Anguilla | A | | English | | 110 V | 60 Hz | 120/208 V / 127/220 V / 240/415 V | 60 Hz | 3, 4 |
| Antigua and Barbuda | A / B | | English | | 230 V | 60 Hz | 400 V | 60 Hz | 3, 4 |
| Argentina (220 V | 50 Hz) | C / I | IEC 60364 (2009) | Spanish | Non-Governmental | 220 V | 50 Hz | 380 V | 50 Hz | 3, 4 |
| Armenia (220 V | 50 Hz) | C / F | | Armenian / Russian / English | | 230 V | 50 Hz | 400 V | 50 Hz | 4 |
| Aruba | A / B / F | | English/Spanish/Papiomento/Dutch | | 120 V | 60 Hz | 220 V | 60 Hz | 3, 4 |
| Australia (230 V | 50 Hz) | I | AS / NZS 3008 : 2009 (revision 2011) | English | Australia / New Zealand | 230 V | 50 Hz | 400 V | 50 Hz | 3, 4 |
| Austria (230 V | 50 Hz) | C / F | ÔNORM (1998) | German | Austria | 230 V | 50 Hz | 400 V | 50 Hz | 3, 4 |
| Azerbaijan (220 V | 50 Hz) | C / F | | Azeri / Turkish | | 220 V | 50 Hz | 380 V | 50 Hz | 4 |
| Azores | B / C / F | | Portuguese | | 230 V | 50 Hz | 400 V | 50 Hz | 3, 4 |
| Bahamas (120/240 V, 120/208 V | 60 Hz) | A / B | | English | | 120 V | 60 Hz | 208 V | 60 Hz | 3, 4 |
| Bahrain (240 V | 50 Hz) | G | | Arabic/English | | 230 V | 50 Hz | 400 V | 50 Hz | 3, 4 |
| Balearic Islands | C / F | | Catalan / Spanish | | 230 V | 50 Hz | 400 V | 50 Hz | 3, 4 |
| Bangladesh (230 V | 50 Hz) | A / C / D / G / K | | Bengali | | 220 V | 50 Hz | 380 V | 50 Hz | 3, 4 |
| Barbados | A / B | | English | | 115 V | 50 Hz | 200 V | 50 Hz | 3, 4 |
| Belarus (220 V, 220/127 V, 127 V | 50 Hz) | C / F | | Belarusian / Russian | | 220 V | 50 Hz | 380 V | 50 Hz | 4 |
| Belgium (230 V | 50 Hz) | C / E | RGIE-AREI (2008)/RGIE-AREI DC (2001) | French / Flemish | Belgium | 230 V | 50 Hz | 400 V | 50 Hz | 3, 4 |
| Belize (110 V | 60 Hz) | A / B / G | | English/Kriol/Spanish | | 110 V / 220 V | 60 Hz | 190 V / 380 V | 60 Hz | 3, 4 |
| Benin (220 V | 50 Hz) | C / E | NFC 15-100 (2002) | French | France | 220 V | 50 Hz | 380 V | 50 Hz | 4 |
| Bermuda | A / B | | English | | 120 V | 60 Hz | 208 V | 60 Hz | 3, 4 |
| Bhutan (230 V | 50 Hz) | C / D / G | | Dzongkha / English | | 230 V | 50 Hz | 400 V | 50 Hz | 4 |
| Bolivia (230 V | 50 Hz) | A / C | IEC 60364 (2009) | Spanish | Non-Governmental | 230 V | 50 Hz | 400 V | 50 Hz | 4 |
| Bonaire | A / C | | Dutch/Papiamentu/English/Spanish | | 127 V | 50 Hz | 220 V | 50 Hz | 3, 4 |
| Bosnia and Herzegovina (220 V | 50 Hz) | C / F | | Bosnian/Serbian/Croatian | | 230 V | 50 Hz | 400 V | 50 Hz | 4 |
| Botswana (220 V | 50 Hz) | D / G | BS 7671 (2008) | English | United Kingdom | 230 V | 50 Hz | 400 V | 50 Hz | 4 |
| Brazil (220-127 V | 60 Hz) | C / N | NBR 5410 : 2004 (2008 revision) | Portuguese | Brazil | 127 V / 220 V | 60 Hz | 220 V / 380 V | 60 Hz | 3, 4 |
| British Virgin Islands | A / B | | English | | 110 V | 60 Hz | 190 V | 60 Hz | 3, 4 |
| Brunei Darussalam (240 V | 50 Hz) | G | | Malay | | 240 V | 50 Hz | 415 V | 50 Hz | 4 |
| Bulgaria (220/230 V | 50 Hz) | C / F | | Bulgarian | | 230 V | 50 Hz | 400 V | 50 Hz | 4 |
| Burkina Faso (230 V | 50 Hz) | C / E | NFC 15-100 (2002) | French | France | 220 V | 50 Hz | 380 V | 50 Hz | 4 |
| Burma (officially Myanmar) | A / C / D / G / I | | Burmese/English | | 230 V | 50 Hz | 400 V | 50 Hz | 4 |
| Burundi (220 V | 50 Hz) | C / E | | Kirundi, French, English | | 220 V | 50 Hz | 380 V | 50 Hz | 4 |
| Cambodia (220 V | 50 Hz) | A / C / G | | Khmer | | 230 V | 50 Hz | 400 V | 50 Hz | 4 |
| Cameroon (220 V | 50 Hz) | C / E | BS 7671 and NFC 15-100 | English | United Kingdom | 220 V | 50 Hz | 380 V | 50 Hz | 4 |
| Canada (240/120 V, 240 V | 60 Hz) | A / B | Canadian Electrical Code | English / French | Canada | 120 V | 60 Hz | 120/208 V / 240 V / 480 V / 347/600 V | 60 Hz | 3, 4 |
| Canary Islands | C / E / F | | Castilian/English/German | | 230 V | 50 Hz | 400 V | 50 Hz | 3, 4 |
| Cape Verde | C / F | NP (2002) | Portuguese | Portugal | 230 V | 50 Hz | 400 V | 50 Hz | 3, 4 |
| Cayman Islands | A / B | | English | | 120 V | 60 Hz | 240 V | 60 Hz | 3 |
| Central African Republic (220 V | 50 Hz) | C / E | NFC 15-100 (2002) | French | France | 220 V | 50 Hz | 380 V | 50 Hz | 4 |
| Chad (220 V | 50 Hz) | C / D / E / F | NFC 15-100 (2002) | French | France | 220 V | 50 Hz | 380 V | 50 Hz | 4 |
| Channel Islands (Guernsey & Jersey) | C / G | | French/English | | 230 V | 50 Hz | 400 V | 50 Hz | 4 |
| Chile (220 V | 50 Hz) | C / L | IEC 60364 (2009) | Spanish | Non-Governmental | 220 V | 50 Hz | 380 V | 50 Hz | 3, 4 |
| China (220 V | 50 Hz) | A / C / I | IEC 60364 in General, based on Russian IEC | Mandarin | China | 220 V | 50 Hz | 380 V | 50 Hz | 3, 4 |
| Christmas Islands | I | | English | | 230 V | 50 Hz | | | |
| Cocos (Keeling ) Islands | I | | Malay, English | | 230 V | 50 Hz | | | |
| Colombia (240/120 V, 208/120 V | 60 Hz) | A / B | NFPA 780: NEC | Spanish | USA | 110 V | 60 Hz | 220 V / 440 V | 60 Hz | 3, 4 |
| Comoros | C / E | | Comorian / French / Arabic | | 220 V | 50 Hz | 380 V | 50 Hz | 4 |
| Congo (Democratic Republic) (220-240 V | 50 Hz) | C / D / E | NFC 15-100 (2002) | French | France | 220 V | 50 Hz | 380 V | 50 Hz | 3, 4 |
| People's Republic of Congo | C / E | | French / Kikongo | | 230 V | 50 Hz | 400 V | 50 Hz | 3, 4 |
| Cook Islands | I | | Rarotongan / English | | 240 V | 50 Hz | 415 V | 50 Hz | 3, 4 |
| Costa Rica (240/120 V | 60 Hz) | A / B | | Spanish | | 120 V | 60 Hz | 240 V | 60 Hz | 3, 4 |
| Côte d'Ivoire (Ivory Coast) | C / E | NFC 15-100 (2002) | French | France | 220 V | 50 Hz | 380 V | 50 Hz | 3, 4 |
| Croatia (230 V | 50 Hz) | C / F | | Croatian / Bosnian / Serbian | | 230 V | 50 Hz | 400 V | 50 Hz | 4 |
| Cuba (115/230 V | 60 Hz) | A / B / C / L | | Spanish | | 110 V / 220 V | 60 Hz | 190 V | 60 Hz | 3 |
| Curacao | A / B | NEN 1010 | Dutch, Papiamento, English | | 127 V | 50 Hz | 220 V / 380 V | 50 Hz | 3, 4 |
| Cyprus (230 V | 50 Hz) | G | BS 7671 (2008) | English | United Kingdom | 230 V | 50 Hz | 400 V | 50 Hz | 4 |
| Northern Cyprus | G | | Turkish | | 230 V | 50 Hz | | | |
| Czech Republic (230 V | 50 Hz) | C / E | CSN (2000) | English | Czech Republic | 230 V | 50 Hz | 400 V | 50 Hz | 3, 4 |
| Democratic Republic of the Congo | NFC 15-100 (2002) | French | France | | | | | | |
| Denmark (230 V | 50 Hz) | C / E / F / K | | Danish / English | | 230 V | 50 Hz | 400 V | 50 Hz | 3, 4 |
| Djibouti (220 V | 50 Hz) | C / E | NFC 15-100 (2002) | French | France | 220 V | 50 Hz | 380 V | 50 Hz | 4 |
| Dominica | D / G | | English / French | | 230 V | 50 Hz | 400 V | 50 Hz | 4 |
| Dominican Republic (240 V | 60 Hz) | A / B | | Spanish | | 120 V | 60 Hz | 120/208 V / 277/480 V | 60 Hz | 3, 4 |
| Dubai | G | | Arabic / English | | 230 V | 50 Hz | 400 V | 50 Hz | 3, 4 |
| East Timor (Timor-Leste) | C / E / F / I | | Portuguese / Teturn | | 220 V | 50 Hz | 380 V | 50 Hz | 4 |
| Ecuador (110 V | 60 Hz) | A / B | IEC 60364 (2009) | Spanish | Non-Governmental | 120 V | 60 Hz | 208 V | 60 Hz | 3, 4 |
| Egypt (220 V | 50 Hz) | C / F | SC 23B IEC 60364 (2009) | Literary Arabic | | 220 V | 50 Hz | 380 V | 50 Hz | 3, 4 |
| El Salvador (240/120 V | 60 Hz) | A / B | | Spanish | | 120 V | 60 Hz | 200 V | 60 Hz | 3 |
| England | G | | English | | 230 V | 50 Hz | 400 V | 50 Hz | 4 |
| Equatorial Guinea | C / E | | Spanish / Portuguese / French | | 220 V | 50 Hz | | | |
| Eritrea (220 V | 50 Hz) | C / L | | Tigrinya / Tigre / Kunama | | 230 V | 50 Hz | 400 V | 50 Hz | 4 |
| Estonia (220 V | 50 Hz) | C / F | EVS/TK 17 (2007) | Estonian | | 230 V | 50 Hz | 400 V | 50 Hz | 4 |
| Ethiopia (220 V | 50 Hz) | C / F | | Amharic / Oromo / English | | 220 V | 50 Hz | 380 V | 50 Hz | 4 |
| Faroe Islands | C / E / F / K | | Faroese / Danish / English | | 230 V | 50 Hz | 400 V | 50 Hz | 3, 4 |
| Falkland Islands | G | | English | | 240 V | 50 Hz | 415 V | 50 Hz | 4 |
| Fiji (240 V | 50 Hz) | I | | Fijian / English / Fiji Hindi | | 240 V | 50 Hz | 415 V | 50 Hz | 3, 4 |
| Finland (230 V | 50 Hz) | C / F | | Finnish / Swedish / English | | 230 V | 50 Hz | 400 V | 50 Hz | 3, 4 |
| France (230 V | 50 Hz) | C / E | NFC 15-100 (2002) | French | France | 230 V | 50 Hz | 400 V | 50 Hz | 4 |
| French Guiana | C / D / E | | French | | 220 V | 50 Hz | 380 V | 50 Hz | 3, 4 |
| French Guyana | | NFC 15-100 (2002) | French | France | | | | | |
| French Overseas Territories (220 V | 50 Hz) | | | French | | | | | | |
| French Polynesia | | NFC 15-100 (2002) | French | France | | | | | |
| Gabon (Gabonese Republic) (220 V | 50 Hz) | C | NFC 15-100 (2002) | French | France | 220 V | 50 Hz | 380 V | 50 Hz | 4 |
| Gambia (220 V | 50 Hz) | G | BS 7671 (2008) | English | United Kingdom | 230 V | 50 Hz | 400 V | 50 Hz | 4 |
| Gaza Strip (Gaza) | C / H | | Arabic / Hebrew / English | | 230 V | 50 Hz | 400 V | 50 Hz | 4 |
| Georgia (220 V | 50 Hz) | C / F | | Georgian | | 220 V | 50 Hz | 380 V | 50 Hz | 4 |
| Germany (230 V | 50 Hz) | C / F | VDE (2010) | German | Germany | 230 V | 50 Hz | 400 V | 50 Hz | 4 |
| Ghana (240-220 V | 50 Hz) | D / G | BS 7671 (2008) | English | United Kingdom | 230 V | 50 Hz | 400 V | 50 Hz | 3, 4 |
| Gibraltar | G | BS 7671 (2008) | English / Spanish | United Kingdom | 230 V | 50 Hz | 400 V | 50 Hz | 4 |
| Great Britain (GB) | G | | English | | 230 V | 50 Hz | 400 V | 50 Hz | 4 |
| Greece (230 V | 50 Hz) | C / F | (ex-73/23/ECC) /95/EC (2006) | Greek / Slav-Macedonian / Albanian | | 230 V | 50 Hz | 400 V | 50 Hz | 4 |
| Greenland | C / E / F / K | | Greenlandic / Danish / English | | 230 V | 50 Hz | 400 V | 50 Hz | 3, 4 |
| Grenada (230 V | 50 Hz) | G | | English / French | | 230 V | 50 Hz | 400 V | 50 Hz | 4 |
| Guadeloupe | C / E | | French | | 230 V | 50 Hz | 400 V | 50 Hz | 3, 4 |
| Guam | A / B | | ‎English / ‎Chamorro | | 110 V | 60 Hz | 190 V | 60 Hz | 3, 4 |
| Guatemala (220/110 V | 60 Hz) | A / B | | Spanish | | 120 V | 60 Hz | 208 V | 60 Hz | 3, 4 |
| Guinea | C / F / K | | French / Creole | | 220 V | 50 Hz | 380 V | 50 Hz | 3, 4 |
| Guinea-Bissau | C | | Creole / French Portuguese | | 220 V | 50 Hz | 380 V | 50 Hz | 3, 4 |
| Guyana (120/240 V | 50 Hz, 60 Hz) | A / B / D / G | BS 7671 (2008) | English | United Kingdom | 120 V / 240 V | 60 Hz | 190 V | 60 Hz | 3, 4 |
| Haiti (220 V, 110 V | 60 Hz) | A / B | | French / Creole | | 110 V | 60 Hz | 190 V | 60 Hz | 3, 4 |
| The Netherlands | C / F | | Dutch / English | | 230 V | 50 Hz | 400 V | 50 Hz | 3, 4 |
| Honduras (220/110 V | 60 Hz) | A / B | | Spanish | | 120 V | 60 Hz | 208 V / 230 V / 240 V / 460 V / 480 V | 60 Hz | 3, 4 |
| Hong Kong | G | Code of Practice Electricity (Regulations 2009) | English | Hong Kong | 220 V | 50 Hz | 380 V | 50 Hz | 3, 4 |
| Hungary (230 V | 50 Hz) | C / F | | Hungarian | | 230 V | 50 Hz | 400 V | 50 Hz | 3, 4 |
| Iceland (230 V | 50 Hz) | C / F | | Icelandic / English | | 230 V | 50 Hz | 400 V | 50 Hz | 3, 4 |
| India (230 V | 50 Hz) | C / D / M | SP 30: 2011 | English / Hindi | India | 230 V | 50 Hz | 400 V | 50 Hz | 4 |
| Indonesia (220 V | 50 Hz) | C / F | | Indonesian | | 230 V | 50 Hz | 400 V | 50 Hz | 4 |
| Iran (220 V | 50 Hz) | C / F | | Persian / English / French | | 230 V | 50 Hz | 400 V | 50 Hz | 3, 4 |
| Iraq (220 V | 50 Hz) | C / D / G | | ‎Arabic / Kurdish | | 230 V | 50 Hz | 400 V | 50 Hz | 4 |
| Ireland (Eire) | G | | English / Gaelic | | 230 V | 50 Hz | 400 V | 50 Hz | 4 |
| Ireland, Northern (230 V | 50 Hz) | G | | English | | 230 V | 50 Hz | 400 V | 50 Hz | 4 |
| Isle of Man | C / G | | English / Manx | | 230 V | 50 Hz | 400 V | 50 Hz | 4 |
| Israel (230 V | 50 Hz) | C / H | | Hebrew / Arabic / English | | 230 V | 50 Hz | 400 V | 50 Hz | 4 |
| Ivory Coast (230 V | 50 Hz) | C / F / L | | French | | 230 V | 50 Hz | | | |
| Italy (230 V | 50 Hz) | | CEI 64-8 (1998) | Italian | Italy | | 400 V | 50 Hz | 4 | |
| Jamaica (220/110 V | 50 Hz) | A / B | | English | | 110 V | 50 Hz | 190 V | 50 Hz | 3, 4 |
| Japan (110 V | 60 Hz) | A / B | Japanese version of NEC | Japanese | | 100 V | 50 Hz / 60 Hz | 200 V | 50 Hz / 60 Hz | 3 |
| Jordan (230 V | 50 Hz) | C / D / F / G / J | | Arabic | | 230 V | 50 Hz | 400 V | 50 Hz | 3, 4 |
| Kazakhstan (220-230 V | 50 Hz) | C / F | | Kazakh / Russian | | 220 V | 50 Hz | 380 V | 50 Hz | 3, 4 |
| Kenya (240 V | 50 Hz) | G | BS 7671 (2008) | English / Swahili | United Kingdom | 240 V | 50 Hz | 415 V | 50 Hz | 4 |
| Kiribati | I | | English / Gilbertese | | 240 V | 50 Hz | [unavailable] | [unavailable] | [unavailable] |
| North Korea (220 V | 60 Hz) | C | | Korean | | 220 V | 50 Hz | 380 V | 50 Hz | 3, 4 |
| South Korea (110 V | 60 Hz) | C / F | Korean version of NEC | Korean | | 220 V | 60 Hz | 380 V | 60 Hz | 4 |
| Kosovo | C / F | | Albanian / Serbian | | 230 V | 50 Hz | 230 V / 400 V | 50 Hz | 3 |
| Kuwait (230 V | 50 Hz) | G | | Arabic / English | | 240 V | 50 Hz | 415 V | 50 Hz | 4 |
| Kyrgyzstan (220 V | 50 Hz) | C / F | | Kyrgyz / Russian | | 220 V | 50 Hz | 380 V | 50 Hz | 3, 4 |
| Laos (220 V | 50 Hz) | A / B / C / E / F | | Laotian | | 230 V | 50 Hz | 400 V | 50 Hz | 4 |
| Latvia (220 V | 50 Hz) | C / F | | Latvian | | 230 V | 50 Hz | 400 V | 50 Hz | 4 |
| Lebanon (220 V | 50 Hz) | C / D / G | | Arabic | | 230 V | 50 Hz | 400 V | 50 Hz | 4 |
| Lesotho (220 V | 50 Hz) | M | BS 7671 (2008) | English | United Kingdom | 220 V | 50 Hz | 380 V | 50 Hz | 4 |
| Liberia (230 V, 220 V | 50 Hz) | A / B | | English / Kpelle | | 120 V | 60 Hz | 208 V | 60 Hz | 3, 4 |
| Libya | C / L | NFC 15-100 (2002) | French / English | France | 230 V | 50 Hz | 400 V | 50 Hz | 4 |
| Liechtenstein (230 V | 50 Hz) | C / J | | German | | 230 V | 50 Hz | 400 V | 50 Hz | 4 |
| Lithuania (230 V | 50 Hz) | C / F | | Lithuanian / English | | 230 V | 50 Hz | 400 V | 50 Hz | 4 |
| Luxembourg (230 V | 50 Hz) | C / F | NFC 15-100 (2002) / VDE (2010) | French / German | France / Germany | 230 V | 50 Hz | 400 V | 50 Hz | 4 |
| Macau | G | | Chinese / Portuguese | | 220 V | 50 Hz | 380 V | 50 Hz | 3 |
| Macedonia (220 V | 50 Hz) | C / F | | Macedonian / Albanian | | 230 V | 50 Hz | 400 V | 50 Hz | 4 |
| Madagascar (220/110 V | 50 Hz) | C / E | NFC 15-100 (2002) | Malagasy / French | France | 220 V | 50 Hz | 380 V | 50 Hz | 3, 4 |
| Madeira | C / F | | Portuguese / English | | 230 V | 50 Hz | 400 V | 50 Hz | 3, 4 |
| Malawi (230 V | 50 Hz) | G | BS 7671 (2008) | English | United Kingdom | 230 V | 50 Hz | 400 V | 50 Hz | 3, 4 |
| Malaysia (240 V | 50 Hz) | G | | Malay / English / Mandarin | | 240 V | 50 Hz | 415 V | 50 Hz | 4 |
| Maldives (220 V | 50 Hz) | C / D / G / J / K / L | | Dhivehi / English | | 230 V | 50 Hz | 400 V | 50 Hz | 4 |
| Mali (220 V | 50 Hz) | C / E | NFC 15-100 (2002) | French | France | 220 V | 50 Hz | 380 V | 50 Hz | 3, 4 |
| Malta (230 V | 50 Hz) | G | | English / Maltese | | 230 V | 50 Hz | 400 V | 50 Hz | 4 |
| Marshall Islands | A / B | | English / Ebon | | 120 V | 60 Hz | [unavailable] | [unavailable] | [unavailable] |
| Martinique | C / D / E | | French | | 220 V | 50 Hz | 380 V | 50 Hz | 3, 4 |
| Mauritania (220 V | 50 Hz) | C | NFC 15-100 | French / English | France | 220 V | 50 Hz | 220 V | 50 Hz | 3, 4 |
| Mauritius (220 V | 50 Hz) | C / G | BS 7671 (2008) | English | United Kingdom | 230 V | 50 Hz | 400 V | 50 Hz | 4 |
| Mayotte | C / E | | French | | 230 V | 50 Hz | [unavailable] | [unavailable] | [unavailable] |
| Mexico (220/127 V, 220 V, 120 V | 50 Hz) | A / B | NFPA 780: NEC | Spanish | USA | 127 V | 60 Hz | 220 V / 480 V | 60 Hz | 3, 4 |
| Federated States of Micronesia | A / B | | English | | 120 V | 60 Hz | [unavailable] | [unavailable] | [unavailable] |
| Moldova (220 V, 220/127 V, 127 V | 50 Hz) | C / F | | Romanian | | 230 V | 50 Hz | 400 V | 50 Hz | 4 |
| Monaco (220 V | 50 Hz) | C / E / F | NFC 15-100 (2002) | French | France | 230 V | 50 Hz | 400 V | 50 Hz | 4 |
| Mongolia (220 V | 50 Hz) | C / E | | Mongolian | | 230 V | 50 Hz | 400 V | 50 Hz | 4 |
| Montenegro | C / F | | Montenegrin | | 230 V | 50 Hz | 400 V | 50 Hz | 3, 4 |
| Montserrat | A / B | | English | | 230 V | 60 Hz | 400 V | 60 Hz | 4 |
| Morocco (220 V | 50 Hz) | C / E | NFC 15-100 (2002) | French / English | France | 220 V | 50 Hz | 380 V | 50 Hz | 4 |
| Mozambique (220 V | 50 Hz) | C / F / M | BS 7671 (2008) | Portuguese | United Kingdom | 220 V | 50 Hz | 380 V | 50 Hz | 4 |
| Myanmar (230 V | 50 Hz) | A / C / D / G / I | | Burmese/English | | 230 V | 50 Hz | 400 V | 50 Hz | 4 |
| Namibia (220 V | 50 Hz) | D / M | BS 7671 (2008) | English | United Kingdom | 220 V | 50 Hz | 380 V | 50 Hz | 4 |
| Nauru | I | | Nauruan / English | | 240 V | 50 Hz | 415 V | 50 Hz | 4 |
| Nepal (220 V | 50 Hz) | C / D / M | | Nepali / Maithili | | 230 V | 50 Hz | 400 V | 50 Hz | 4 |
| Netherlands (230 V | 50 Hz) | C / F | NEN 1010 (1996) | Dutch | Netherlands | 230 V | 50 Hz | 400 V | 50 Hz | 3, 4 |
| New Caledonia | C / F | | French | | 220 V | 50 Hz | 380 V | 50 Hz | 3, 4 |
| New Zealand (230 V | 50 Hz) | I | AS / NZS 3008 : 2009 (revision 2011) | English | Australia / New Zealand | 230 V | 50 Hz | 400 V | 50 Hz | 3, 4 |
| Nicaragua (240/120 V | 60 Hz) | A | | Spanish | | 120 V | 60 Hz | 208 V | 60 Hz | 3, 4 |
| Niger (220 V | 50 Hz) | C / D / E / F | NFC 15-100 (2002) | French | France | 220 V | 50 Hz | 380 V | 50 Hz | 4 |
| Nigeria (230 V, 220 V | 50 Hz) | D / G | BS 7671 (2008) | English | United Kingdom | 230 V | 50 Hz | 400 V | 50 Hz | 4 |
| Northern Ireland | G | | Irish / English | | 230 V | 50 Hz | 400 V | 50 Hz | 4 |
| North Korea | C | | Korean | | 220 V | 50 Hz | 380 V | 50 Hz | 3, 4 |
| Norway (230 V | 50 Hz) | C / F | | Norwegian | | 230 V | 50 Hz | 230 V / 400 V | 50 Hz | 3, 4 |
| Oman (240 V | 50 Hz) | G | | Arabic / English | | 240 V | 50 Hz | 415 V | 50 Hz | 4 |
| Pakistan (230 V | 50 Hz) | C / D | | Urdu / English | | 230 V | 50 Hz | 400 V | 50 Hz | 3 |
| Palau | A / B | | Palauan / English | | 120 V | 60 Hz | 208 V | 60 Hz | 3 |
| Palastine | C / H | | Arabic / Hebrew / Armenian | | 230 V | 50 Hz | | | |
| Panama (240/120 V | 60 Hz) | A / B | | Spanish | | 120 V | 60 Hz | 240 V | 60 Hz | 3 |
| Papua New Guinea (240 V | 50 Hz) | I | | Tok Pisin / English / Hiri Motu | | 240 V | 50 Hz | 415 V | 50 Hz | 4 |
| Paraguay (220 V | 50 Hz) | C | IEC 60364 (2009) | Spanish | Non-Governmental | 220 V | 50 Hz | 380 V | 50 Hz | 4 |
| Peru (220 V | 60 Hz) | A / C | IEC 60364 (2009) | Spanish | Non-Governmental | 220 V | 60 Hz | 220 V | 60 Hz | 3 |
| Philippines (250 V | 60 Hz) | A / B / C | Phillipine Electrical Code | Tagolog | Phillipines | 220 V | 60 Hz | 380 V | 60 Hz | 3 |
| Pitcairn Islands | I | | English / Pitkern | | 230 V | 50 Hz | [unavailable] | [unavailable] | [unavailable] |
| Poland (230 V | 50 Hz) | C / E | | Polish | | 230 V | 50 Hz | 400 V | 50 Hz | 4 |
| Portugal (230 V | 50 Hz) | C / F | NP (2002) | Portuguese | Portugal | 230 V | 50 Hz | 400 V | 50 Hz | 3, 4 |
| Puerto Rico | A / B | | Spanish / English | | 120 V | 60 Hz | 208 V | 60 Hz | 3, 4 |
| Qatar (240 V | 50 Hz) | G | | Arabic / English | | 240 V | 50 Hz | 415 V | 50 Hz | 3, 4 |
| Réunion | C / E | | French | | 230 V | 50 Hz | 400 V | 50 Hz | 4 |
| Romania (230 V | 50 Hz) | C / F | | Romanian / English | | 230 V | 50 Hz | 400 V | 50 Hz | 4 |
| Russia (officially Russian Federation (220 V | 50 Hz) | C / F | IEC 60364 | Russian | Non-Governmental | 220 V | 50 Hz | 380 V | 50 Hz | 4 |
| Rwanda (220 V | 50 Hz) | C / J | BS 7671 (2008) | French / English | United Kingdom | 230 V | 50 Hz | 400 V | 50 Hz | 4 |
| Saba | A / B | | English / Dutch | | 110 V | 60 Hz | [unavailable] | [unavailable] | [unavailable] |
| Saint Barthélemy (Saint Barth's) | C / E | | French | | 230 V | 60 Hz | [unavailable] | [unavailable] | [unavailable] |
| Saint Kitts and Nevis | B / G | | English | | 230 V | 60 Hz | 400 V | 60 Hz | 4 |
| Saint Lucia (240 V | 50 Hz) | G | BS 7671 | English | United Kingdom | 230 V | 50 Hz | 400 V | 50 Hz | 4 |
| Saint Martin | C / E | | Dutch / English | | 220 V | 60 Hz | [unavailable] | [unavailable] | [unavailable] |
| Saint Helena | G | | English | | 230 V | 50 Hz | [unavailable] | [unavailable] | [unavailable] |
| Sint Eustatius | | | Dutch | | | | 220 V | 60 Hz | 3, 4 |
| Sint Maarten | A / B / C / F | | Dutch / English | | 110 V / 220 V | 60 Hz | 220 V | 60 Hz | 3, 4 |
| Saint Helena | G | | English | | 230 V | 50 Hz | [unavailable] | [unavailable] | [unavailable] |
| Sint Eustatius | | | Dutch | | | | 220 V | 60 Hz | 3, 4 |
| Sint Maarten | A / B / C / F | | Dutch / English | | 110 V / 220 V | 60 Hz | 220 V | 60 Hz | 3, 4 |
| Saint Vincent and the Grenadines (230 V | 50 Hz) | A / B | BS 7671 | English | United Kingdom | 110 V | 60 Hz | 400 V | 50 Hz | 4 |
| Samoa | A / B / G | | Samoan / English | | 110 V / 230 V | 50 Hz | 400 V | 50 Hz | 3, 4 |
| San Marino | I | | Italian | | 230 V | 50 Hz | 400 V | 50 Hz | 4 |
| São Tomé and Príncipe | C / F / L | | Portuguese | | 230 V | 50 Hz | 400 V | 50 Hz | 3, 4 |
| Saudi Arabia (220/127 V | 60 Hz) | C / F | | Arabic / English | | 230 V | 50 Hz | 220 V / 380 V | 60 Hz | 4 |
| Scotland | A / B / C / G | | Scots / English | | 127 V / 220 V | 60 Hz | 400 V | 50 Hz | 4 |
| Senegal (220 V | 50 Hz) | G | NFC 15-100 (2002) | French | France | 230 V | 50 Hz | 400 V | 50 Hz | 3, 4 |
| Serbia | C / D / E / K | | Serbian | | 230 V | 50 Hz | 400 V | 50 Hz | 3, 4 |
| Seychelles (230 V | 50 Hz) | C / F | BS 7671 (2008) | French / English | United Kingdom | 230 V | 50 Hz | 240 V | 50 Hz | 3 |
| Sierra Leone (230 V | 50 Hz) | G | BS 7671 (2008) | English | United Kingdom | 240 V | 50 Hz | 400 V | 50 Hz | 4 |
| Singapore (230 V | 50 Hz) | D / G | | Malay \ Tamil \ English \ Mandarin Chinese | | 230 V | 50 Hz | 400 V | 50 Hz | 4 |
| Slovakia (230 V | 50 Hz) | G | | Slovak | | 230 V | 50 Hz | 400 V | 50 Hz | 4 |
| Slovenia (230 V | 50 Hz) | C / E | | Slovenian | | 230 V | 50 Hz | 400 V | 50 Hz | 3, 4 |
| Soloman Islands | C / F | | English | | 230 V | 50 Hz | [unavailable] | [unavailable] | [unavailable] |
| Somalia (230 V, 220 V, 110 V | 50 Hz) | G / I | | Somali | | 230 V | 50 Hz | 380 V | 50 Hz | 3, 4 |
| Somaliland | C | | Somali / Arabic / English | | 220 V | 50 Hz | 380 V | 50 Hz | 3, 4 |
| South Africa (250 V, 230 V, 220 V | 50 Hz) | C | BS 7671 (2008) | English | United Kingdom | 220 V | 50 Hz | 400 V | 50 Hz | 3, 4 |
| South Korea | C / D / M / N | | Korean | | 230 V | 50 Hz | 380 V | 60 Hz | 4 |
| South Sudan | C / F | | English / Swahili | | 220 V | 60 Hz | 400 V | 50 Hz | 4 |
| Spain (220 V, 220/127 V | 50 Hz) | C / D | REBT 2002 (2004 revision) | Spanish | Spain | 230 V | 50 Hz | 400 V | 50 Hz | 3, 4 |
| Sri Lanka (230 V | 50 Hz) | C / F | BS 7671 (2008) | English | United Kingdom | 230 V | 50 Hz | 400 V | 50 Hz | 4 |
| Sudan (240 V | 50 Hz) | D / G | | Arabic / English | | 230 V | 50 Hz | 400 V | 50 Hz | 4 |
| Suriname (220/127 V | 60 Hz) | C / D | NEN 1010 (1996) | Dutch | Netherlands | 230 V | 50 Hz | 220 V / 400 V | 60 Hz | 3, 4 |
| Swaziland (230 V | 50 Hz) | A / B / C / F | BS 7671 (2008) | English | United Kingdom | 127 V / 230 V | 60 Hz | 400 V | 50 Hz | 4 |
| Sweden (230 V | 50 Hz) | M | | Swedish | | 230 V | 50 Hz | 400 V | 50 Hz | 3, 4 |
| Switzerland (230 V | 50 Hz) | C / F | NIBT-NIN (2010) | French / German / Italian | Switzerland | 230 V | 50 Hz | 400 V | 50 Hz | 3, 4 |
| Syria | C / J | | Arabic | | 230 V | 50 Hz | 380 V | 50 Hz | 3 |
| Syrian Arab Republic (220 V | 50 Hz) | C / E / L | | Arabic | | 220 V | 50 Hz | | | |
| Tahiti | C / E | | French / English | | 220 V | 50 Hz / 60 Hz | 380 V | 50 Hz / 60 Hz | 3, 4 |
| Taiwan (220 V | 60 Hz) | A / B | | Mandarin | | 110 V | 60 Hz | 220 V | 60 Hz | 4 |
| Tajikistan (220 V, 220/127 V, 127 V | 50 Hz) | C / F | | Tajiki | | 220 V | 50 Hz | 380 V | 50 Hz | 3 |
| Tanzania (United Republic) (230 V | 50 Hz) | D / G | BS 7671 (2008) | English | United Kingdom | 230 V | 50 Hz | 400 V | 50 Hz | 3, 4 |
| Thailand (220 V | 50 Hz) | A / B / C / O | NFPA 780: NEC | English | USA | 230 V | 50 Hz | 400 V | 50 Hz | 3, 4 |
| Togo (230 V | 50 Hz) | C | NFC 15-100 (2002) | French | France | 220 V | 50 Hz | 380 V | 50 Hz | 4 |
| Tokelau | I | | Tokelauan / English | | 230 V | 50 Hz | [unavailable] | [unavailable] | [unavailable] |
| Tonga (240 V | 50 Hz) | I | | Tongan / English | | 240 V | 50 Hz | 415 V | 50 Hz | 3, 4 |
| Trinidad and Tobago (230/115 V | 60 Hz) | A / B | BS 7671 (2008) | English | United Kingdom | 115 V | 60 Hz | 200 V | 60 Hz | 3, 4 |
| Tunisia (230 V | 50 Hz) | C / E | NFC 15-100 (2002) | French / English | France | 230 V | 50 Hz | 400 V | 50 Hz | 4 |
| Turkey (220 V | 50 Hz) | C / F | | Turkish / English | | 230 V | 50 Hz | 400 V | 50 Hz | 3, 4 |
| Turkmenistan (220 V, 220/127 V, 127 V | 50 Hz) | C / F | | Turkmen | | 220 V | 50 Hz | 380 V | 50 Hz | 3 |
| Turks and Caicos Islands | A / B | | English | | 120 V | 60 Hz | 240 V | 60 Hz | 4 |
| Tuvalu | I | | Tuvaluan / English | | 230 V | 50 Hz | [unavailable] | [unavailable] | [unavailable] |
| Uganda (240 V | 50 Hz) | G | BS 7671 (2008) | English | United Kingdom | 240 V | 50 Hz | 415 V | 50 Hz | 4 |
| Ukraine (220 V | 50 Hz) | C / F | | Ukrainian | | 230 V | 50 Hz | 400 V | 50 Hz | 4 |
| United Arab Emirates (240 V | 50 Hz) | G | | Arabic / English / French | | 230 V | 50 Hz | 400 V | 50 Hz | 3, 4 |
| United Kingdom and Northern Ireland | G | BS 7671 (2008) | English | United Kingdom | 230 V | 50 Hz | 400 V | 50 Hz | 4 |
| United States of America (120/240 V, 208/120 V | 60 Hz) | A / B | NFPA 780: NEC | English | USA | 120 V | 60 Hz | 120/208 V / 277/480 V / 120/240 V / 240 V / 480 V | 60 Hz | 3, 4 |
| United States Virgin Islands | A / B | | English | | 110 V | 60 Hz | 190 V | 60 Hz | 3, 4 |
| Uruguay (220 V | 50 Hz) | C / F / L | NFPA 780: NEC | Spanish | USA | 220 V | 50 Hz | 380 V | 50 Hz | 3 |
| Uzbekistan (220 V | 50 Hz) | C / F | | Uzbek | | 220 V | 50 Hz | 380 V | 50 Hz | 4 |
| Vanuatu (220 V | 50 Hz) | I | | Bislama / French / English | | 230 V | 50 Hz | 400 V | 50 Hz | 3, 4 |
| Vatican City | C / F / L | CEI 64-8 (1998) | Italian | Italy | 230 V | 50 Hz | [unavailable] | [unavailable] | [unavailable] |
| Venezuela (120 V | 60 Hz) | A / B | | Spanish / Castillan | | 120 V | 60 Hz | 120 V | 60 Hz | 3, 4 |
| Vietnam (220 V | 50 Hz) | A / C / D | | Vietnamese | | 220 V | 50 Hz | 380 V | 50 Hz | 4 |
| Virgin Islands (British) | A / B | | English | | 110 V | 60 Hz | 190 V | 60 Hz | 3, 4 |
| Virgin Islands (USA) | A / B | | English | | 110 V | 60 Hz | 190 V | 60 Hz | 3, 4 |
| Wales | G | | English | | 230 V | 50 Hz | 400 V | 50 Hz | 4 |
| Yemen (250 V | 50 Hz) | A / D / G | | Arabic | | 230 V | 50 Hz | 400 V | 50 Hz | 4 |
| Zambia (230 V | 50 Hz) | C / D / G | BS 7671 (2008) | English | United Kingdom | 230 V | 50 Hz | 400 V | 50 Hz | 4 |
| Zimbabwe (225 V | 50 Hz) | D / G | BS 7671 (2008) | English | United Kingdom | 240 V | 50 Hz | 415 V | 50 Hz | 3, 4 |